Bangladesh Festival-2021 in Athens
The Embassy of Bangladesh organized a spectacular festival on Sunday October 24, 2021 at the Embassy's premises in Athens as part of the year-long celebrations of the birth centenary of the Father of the Nation Bangabandhu Sheikh Mujibur Rahman and the Golden Jubilee of the Independence of Bangladesh.
H.E. the Ambassador of Bangladesh to Greece Mr. Ashud Ahmed welcomed the guests and a cultural program was presented by Bangladeshi children and artists living in Greece, who enthralled the audience with a number of classical songs and dance presentations. At the Bangladeshι bazar handicrafts, food and books were displayed.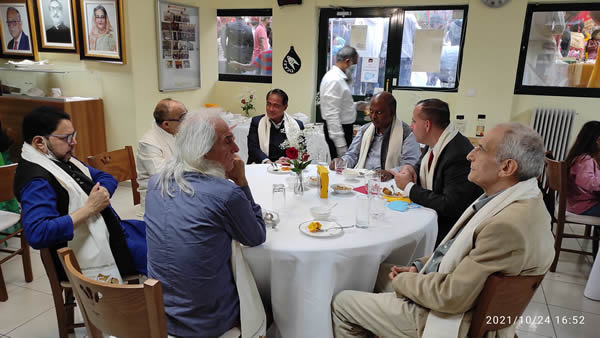 The festival was attended by diplomats, academicians and members of the Bangladeshi community in Athens, as well as by Greek and foreign friends of Bangladesh. Souvenirs were presented to the guests which were highly appreciated.
Welcome speech of H.E. the Ambassador of Bangladesh to Greece Mr. Ashud Ahmed
Excellencies the Ambassadors, members of the diplomatic corps, my dear Bangladeshi compatriots, distinguished guests, Ladies and Gentlemen,
Good afternoon.
It's my great pleasure to welcome you all to our Bangladesh Festival today. We have organized this Festival as part of our year-long celebrations of the birth centenary of our Father of the Nation Bangabandhu Sheikh Mujibur Rahman and the Golden Jubilee of our great Independence. The coincidence of the two glorious occasions has enhanced our jubilation manifold.
Our Father of the Nation, popularly known as Bangabandhu or the friend of Bengal, was a towering figure, whose indisputable charismatic leadership had played a central role in gaining our independence in 1971. His historic 7 March speech had inspired the whole nation to join our 9-month long great liberation war against the occupation forces. The 18-minute extempore speech of our poet of politics has later been recognized by UNESCO as part of the documentary heritage. Bangabandhu wanted to turn his newly independent country into a Golden Bengal where people of all walks of life would live happily and peacefully enjoying full human rights. The peace loving Bangabandhu had determined the bedrock of our foreign policy which is 'friendship to all and malice to none'.
Dear Guests,
Bangladesh is marching ahead now under the dynamic leadership of our Prime Minister Sheikh Hasina, the worthy daughter of Bangabandhu. Our economy is one of the fastest growing in the world. The country has made tremendous strides in its various economic and social sectors and become the role model of development. The prospective investors from all over the· world are now looking towards Bangladesh for making investments to get value for their money. Bangladesh is now moving slowly but surely towards its long-cherished Golden Bengal as dreamt by our Father of the Nation. So, we are duty bound to pay our rich tributes to Bangabandhu on his birth centenary.
Ladies and Gentlemen,
Thank you very much for joining us in our joyous celebration. The children of our diaspora and Embassy family will make some performances to showcase our rich cultural heritage. There is also our traditional cuisine and culture being displayed at a number of food stalls run by our community people. I sincerely hope you will enjoy your time with us.
Lastly, I would like to convey my sincere thanks to our expatriate Bangladesh community for their all-out support and participation in Bangladesh Festival. Thank you once again for joining us.