1st Bollywood & Multicultural Dance Festival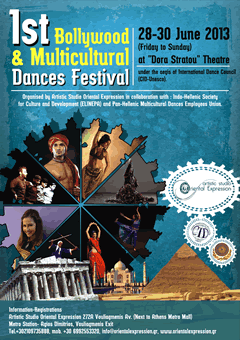 A Festival of unique cultural quality will take place in Athens from the 28th till the 30th of June 2013. It's about the 1st "Bollywood and Multicultural Dances Festival" in Greece, which is organized under the aegis of the International Dance Council (CID-UNESCO) by the Artistic Studio Oriental Expression in collaboration with the Hellenic-Indian Society for Culture and Development and with the support of the Pan-Hellenic Multicultural Dances Employees Union.
The Festival will take place at the historical «Dora Stratou» Greek Dance Theatre anchored in the center of Athens with a splendid view of the Filopappou hill. Noticeable is the fact that this year the «Dora Stratou» theatre celebrates 60 years of existence and operation. It is a great honor that the Festival has been added to the wider celebration of 60 years of this unique theater and is becoming a great cultural event in the artistic activities during the summer period in Athens.
Greece has always been at the crossroads between the East and the West, where diverse cultures came together and have been formed throughout the years. From India and the Middle East to North Africa and the Mediterranean Basin, great civilizations came in close contact exchanging various characteristics, mainly related to the culture and art. The Festival aims to highlight these particular features with the emphasis on the Art of Dance and Music, and to provide the opportunity for those interested to discover the magic and the beauty of this peaceful coexistence of nations – beyond geographical boundaries – in the modern world we live.
Within the festival dancers, musicians, singers and scholars from Greece and abroad will take part. Besides, workshops will be held, as well as presentations, shows, lectures, bazaars and lots of other activities. Specifically, the participants will have the opportunity to attend the workshops of Classical Indian Dances (Bharata Natyam, Kathak), Bollywood dances (traditional and modern), dances from Rajasthan, North-west India (Khalbelia), Middle East Dances, Tribal Fusion, Greek Cretan Dances etc, from teachers of the artistic world.
Cultural clubs, dance groups and individual artists (singers, dancers etc) willing to participate in the Festival can address the organizers:
-Artistic Studio Oriental Expression
272 Α Vouliagmenis Av.(Next to Athens Metro Mall,Metro Ag.Dimitrios, Vouliagmenis Exit).
Tel.+30 2109735888, mob. +30 6992553320
info@orientalexpression.gr, www.orientalexpression.gr
– Hellenic-Indian Society for Culture & Development
A Non For Profit Making NGO
15 N. Florou str., Athens 11524
Tel. & Fax: +30 2103846757
web: www.elinepa.org, e-mail: info@elinepa.org