by Radhika Yeddanapudi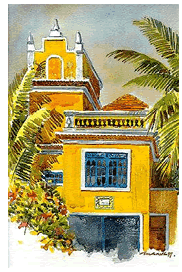 Calangute, Goa is a popular destination amongst tourists who come to India. In the past decade, Calangute has also become famous for another reason-the Kerkar Art Galleries and their owner, Subodh Kerkar. These Galleries house, amongst others, the collections of Kerkar, a grey-eyed, doctor, painter, sculptor, potter, installation artist, and general Renaissance man.
Kerkar describes himself as a watercolorist who trained under his father, also a prominent painter in Goa about 25 years ago. About 15 years ago, Kerkar tired of the lack of creativity in the medical profession and decided to devote himself fulltime to the pursuit of art. Since then, he has been painting, sculpting in copper, scrap metal and handbuilding terracotta objects and he has housed many of his works in the Galleries–two colonial style houses he fashioned after Portuguese era structures. "Traditionally white was a color reserved for churches in the Portuguese era so houses could be blue, green, ochre and a sort of Indian red," said Dr. Kerkar, explaining his choice of façades for the galleries.
If there is one aspect of his work that strikes the onlooker immediately, it is that Kerkar applies his artistic sensibility to all media and genres whether it is carving into scrap iron for relief and screen work in doors, mounting figures onto anchors doubling up as bases or focusing his vision on the design of his various gallery spaces. His sources for material are varied. He laughs merrily as he notes that he had obtained "even free scrap because government agencies did not know what to do with it." He adds that he has been given substantial support in the form of scrap iron from Goa's shipbuilding industry.
Pointing to a recent exhibit of lampshades and objects termed Ellipticals that were displayed at the Kronen Galleries in Germany, he explains that the show
depicts his obsession with the elliptical shape as expressive of the life of a people who are surrounded by the sea. In his paintings there are unmistakable references to elliptical shapes whether its in the exaggerated shape of the eyes of a woman, the streamlined outline of a boat in the far background of a canvas, the shape of fishes. In his terracotta work too there is a continuous bias towards the oval whether its in the cast of a section of the body of a fish, the almost-Hellenic elongated masks, or the stretched and supine Sphinx-like figures. Subtle references to the sea abound in the judicious use of blue paint in the eyes and bodies of his subjects, serving as a reminder of the raison d'etre for the streamlined shapes.
Kerkar emphasizes the role of dissatisfaction that has kept him alive as an artist. Even after he moved from the medical profession toward art, he faced the dilemma of boredom when he exclusively painted watercolor. "I was still a technician at that time. Suddenly and unexpectedly, when I took a month off to do some work in sculpture in Delhi, I found my style. I think the key there was that I was continuously experimenting and trying different things."
According to Kerkar, the most important issue facing Goan art today, is the lack of teachers who practice as artists. "The teachers in the two prominent art institutions, Goa College of Art and Kala Academy, rarely practice their art. Teachers are just looking at their work as a job" he said. He also cited the lack of frequent art related events as a reason for the disinterest amongst young students. "There was an annual art camp to be organized by a local institution in Goa. Now the last time I remember that camp being held was 15 years ago, when I was being presented as a young artist!"
For the past year Kerkar has made a departure from previous work by consciously focusing on nature and natural motifs in installation art. He displays through photographs a series of installations he has undertaken at his own cost on beach fronts around Goa. These installations imitate wave movements, particular light situations and other natural motifs and uses materials found on the seashore such as mussels and sand. "I do this just as an experiment and it costs so little. Some people also get entertained," he admits. A future project includes a coffee table book with illustrations of these installations and verse to describe them. He is also currently developing a sculpture garden around a new house for himself. This sculpture garden is in an agricultural field where he has created an artificial pond, natural benches and dreams of having organic footbridges which "do not appear built". Kerkar sees this space as a demonstration model for governments and others who may wish to see a living sample of his potential for work on parks and natural environments.
Contact Address:
e-mail: subodhkerkar@satyam.net.in