INDIAN MUSIC: classical & folk music, great creators, musical instruments, dances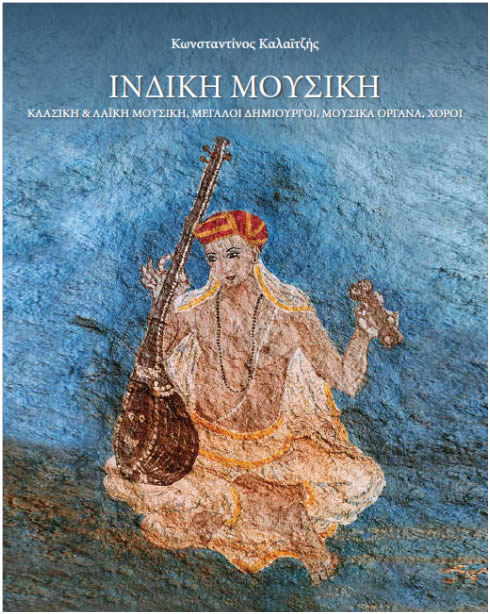 The book is the first of its kind in the Greek language and it is published with the generous support of the Embassy of India in Athens. It is also going to be published in English in the near future.
It is a luxurious, hard cover, full colored, coffee table book, containing over 750 rare photos. The book will be accompanied by a usb stick, in the form of a credit card, containing 180 sound samples of classical, folk and tribal, vocal and instrumental music. This book, is a synopsis of Indian music, offering a mesmerizing trip to Indian culture to the readers. It is the result of the author's extended research and constant travel in all States and Union Territories of India, as he has visited India 44 times, from 1987 until now, in order to research and document samples of its vast and great musical traditions.
ISBN: 978-618-82624-4-7
Size 24X30 cm, 464 pages. color photos
Deluxe edition hardcover printed
Language: Greek
First Edition: 2021
Price:  € 70 (free postage in Greece)
€ 63 for members of ELINEPA
CONTENTS
Nada (sound), Mythology and Music, The 2 Musical Traditions, Raag (Melody), Tala (Rhythm), Rasa, Time and Music, Gharana, Shapes and Ways of Performing Music in Hindustani Music, Shapes and Ways of Performing Music in Karnatak Music, Compositions for Instruments, Great Creators, Musical Instruments, Instrument Makers, Classical and Folk Dances, Dictionary
Publisher 
Hellenic-Indian Society for Culture and Development
REGISTERED OFFICE: 15 Nikolaou Florou Str., Athens. 11524, Greece 
CENTRAL OFFICE : 64 Zoodochou Piges Str., Athens 10681.
Tel. +30-211-6081463, Tel.& Fax: +30-210-3846757 
www.elinepa.org    e-mail :  indohellenic@gmail.com