Meeting of PM Narendra Modi with Greek Indologists in Athens
During his official visit to Athens, Indian Prime Minister Narendra Modi had a special meeting with Greek Indologists: Dr. Dimitrios Vassiliadis, who teaches Hindi at the School of Foreign Languages of the University of Athens and Sanskrit, Indian Philosophy and South Asian Studies at the Athens Center for Indian and Indo-Greek Studies, and with Dr. Apostolos Michaelidis who teaches Indian religions at the Department of Social Theology and Religion of the University of Athens. Both academicians are alumni of Banaras Hindu University in Varanasi, the city where the Indian Prime Minister is being elected MP.
During the meeting, organized at the Hotel Grande Bretagne, Dr. Dimitrios Vasiliadis offered the Indian Prime Minister the following 6 books of Indological content from his publications, making the following comments:
Tagore's Visit to Greece – Rabindranath Tagore stayed in the same hotel, we had the meeting, during his visit in 1926.
The Values of Mahatma Gandhi – who was the first to translate Apology of Socrates into Gujarati, Modi's mother tongue.
Greeks and Buddhism – as he mentioned the Greek-Buddhist art of Gandaraade during the press conference .
Dimitrios Galanos – the work of the late Indologist Miltiadis Spyrou on the pioneering European Indologist Dimitrios Galanos.
Shiva Sutra – A classic text by Vasugupta and Ksemaraja translated from Sanskrit into Greek, as the PM has a special love for Benares, the city of Lord Shiva, and Kashmir Shaivism.
Practical Dictionary Greek-Hindi and Hindi-Greek.
Then Dr. Apostolos Michaelidis offered two books he wrote in the Greek language: 1) Hinduism and 2) The Place of Woman in Hinduism.
In the discussion that followed, the two professors proposed to develop cooperation between the Benares Hindu University and the University of Athens on a wide range of topics, as well as the organize exchange of archaeological exhibitions with the University's museum (Bharat Kala Bhawan) and Greek museums.
The Indian Prime Minister wanted to know why Greek students are interested in studying Indian culture. And how they are dealing with classical studies and science. He was happy to hear that the spread of yoga in Greece and worldwide, for which he had contributed personally by establishing the International Day of Yoga, has greatly helped to increase interest in the study of the Sanskrit language and Indian philosophy and religion since almost all original works are written in Sanskrit.
After the meeting, Mr. Modi posted photos of the meeting on X and videos on his YouTube channel.
Had an insightful interaction with Professor Dimitrios Vassiliadis and Dr. Apostolos Michailidis. Both have an association with BHU and are passionate about Hindi, Sanskrit and Indian studies. We discussed ways to deepen India-Greece cultural cooperation. pic.twitter.com/Rcf6LyAEX3

— Narendra Modi (@narendramodi) August 25, 2023
At the end of the meeting, the two Greek Indologists gave an interview to Indian journalists which was shown on the national television channel of India (Doordarshan) and republished with positive comments by news agencies and newspapers in several local languages all over India.
#WATCH | Athens, Greece | Professor Dimitrios Vassiliadis, Indologist and Sanskrit & Hindi professor at the University of Athens says, "Delightful that the Prime Minister visited Greece…I think he is a good leader of India and an independent personality…He is doing good… https://t.co/zF4iPJEZaa pic.twitter.com/wQ6geohD9S

— ANI (@ANI) August 25, 2023
MEA Spokesperson Arindam Bagchi tweets, "PM Narendra Modi had an engaging exchange of views jointly with Professor Dimitrios Vassiliadis, Indologist and Sanskrit & Hindi professor at University of Athens, and Dr. Apostolos Michailidis, Assistant Professor at Department of Social… pic.twitter.com/gTWKG7PxCC

— ANI (@ANI) August 25, 2023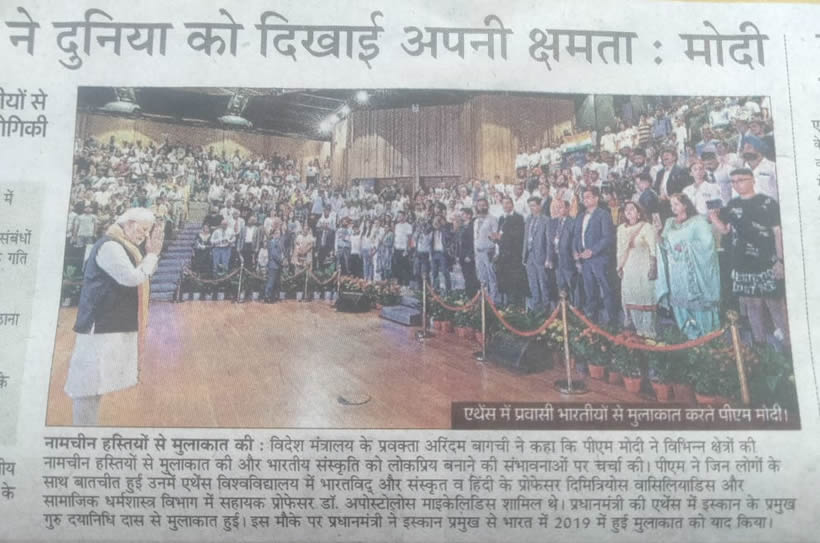 Excerpt from Hindi newspaper Amar Ujala, 26/8/2023, Nainital edition, which gives special emphasis on Modi's meetings with the Indian Community and Greek Indologists from Banaras Hindu University in Athens.