The Gods of Himalayas in Corfu
The Museum of Asian Art of Corfu, after pioneering an exhibition of sculptures from the Graeco-Buddhist Art of Gandhara, presented the current collection of sculptures and paintings from the Indian Subcontinent and the Himalayas under the title "The Gods of the Himalayas ".
The aim of this exhibition is to introduce to the visitors of the Museum the life of the inhabitants of the Himalayas as expressed through their art. The people of the Himalayas and their art are intensely influenced from two major religions, Tantric Shaivism of North India and Tibetan Buddhism. Historically, these religions influenced each other and today they coexist harmoniously in Nepal, Bhutan, and Sikkim, Ladakh, Himachal Pradesh and other regions of the South Himalayas. There are examples of large Tibetan statues of the Buddha, as well as of smaller bronze statues of various deities, frescoes, religious paintings on satin and silk (tankas), jewels and utensils decorated with semi-precious stones, the impressive architecture of monasteries and their temples. For the people of the Himalayas, the statues, the murals and the precious stones that embellish their temples are not only considered representations of the deities, but also the physical bodies in which resign the deities.
As the archaeologist director of the Museum, Mrs. Aglaia Papoutsani –Karamanou explained, the Museum has a permanent collection. Unlike other Greek museums, its collection is not increased by new purchases, as it has no financial means. The Museum was founded in 1927 with an endowment of the diplomat Gregorios Manos to the Greek state of 10.000 objects of Asiatic origin (mainly from China and Japan). Manos spent his entire fortune in auctions in France for the creation of this unique collection and died penniless one year after the museum's opening. The Indian collection of the Museum was strengthened considerably in 1974 with the donation of another diplomat, Nicolaos Chadjivassileiou who served in India, Korea and Japan from 1954 to 1962. His gift of 450 objects included certain well-maintained statues from the Graeco-Buddhist art of Gandhara that were exhibited at the Museum in 2002-3. Some unique pieces were sent to the National Gallery of Athens for the special exhibition "Imperial Treasures from China" that took place during the Cultural Olympiad in Athens 2004.
The Museum of Asian Art is unique in Greece and is housed in the Palace of SS Michael and George, one of the finest examples of European Neoclassicism, in the northern part of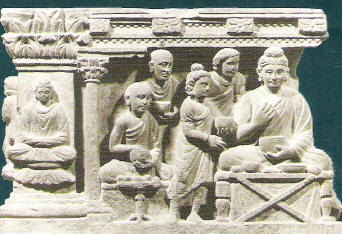 the Spianada, the enormous public square in Corfu town. Its artefacts from India, China, Nepal, Tibet, Japan, Cambodia, Iran, Pakistan and Afghanistan date from the 11th century A.D. The Museum maintains a rich library and, in collaboration with the Ionian University that has its headquarters in Corfu, has the ambition to establish a national centre for research of Oriental cultures and the humanities.