Former President of the Hellenic Republic Karolos Papoulias passed away this morning, December 26, 2021 at the age of 92.
In the news of his death, the President and the Board of Directors of the Hellenic-Indian Society of Culture & Development (ELINEPA) express their condolences to the family of the deceased.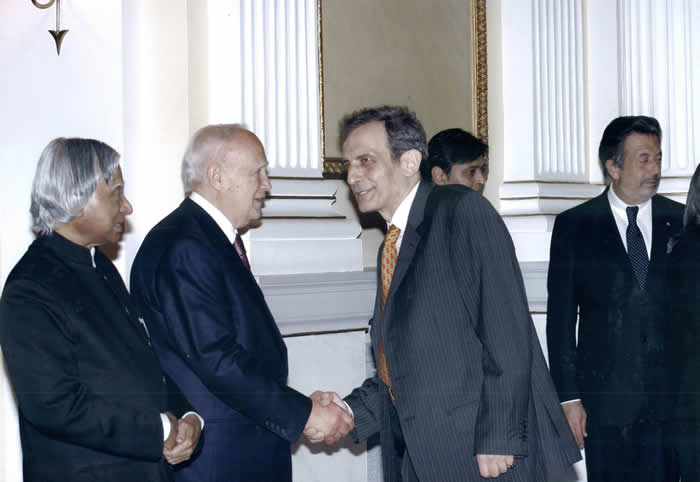 Karolos Papoulias was a prudent politician and a steadfast friend of India. In May 2007, he welcomed the President of India APJ Abdul Kalam in Athens, speaking in Sanskrit, which made a very positive impression to the Indian press, which wrote rave reviews about the Greek President who speaks the sacred language of India.
GREEK WELCOME IN SANSKRIT SURPRISES PRESIDENT KALAM
Visiting President APJ Abdul Kalam got a pleasant surprise when he was welcomed by Greek President Karolos Papoulias in Sanskrit at a banquet hosted in his honour.
"Rashtrapati Mahabhaga, Sur Swagatam Yavana Deshe (Respected President,You are Welcome to Greece)," said Mr Populias as Dr Kalam entered the Banquet hall here last night.
The Greek President told Dr Kalam that he learnt Sanskrit, the ancient India language that is related to the ancient Greek language, in Germany and used the language with such a rich history to welcome the Indian President.
He said ' India and Greece were the birthplaces of great civilizations, which at certain point of time, in the era of Alexander the Great, met and formed an entirely particular relationship between them."
Replying to his welcome, Dr Kalam said he was happy to be in Greece which has contributed so much to civilization. "Greece is the crucible of democracy and India is the World's largest democracy. My visit has been a rewarding experience," he said.