Evripides' Bacchae at the Delhi International Arts Festival
Bacchae, the ancient Greek tragedy written by the Athenian playwright Evripides will be staged at the Delhi International Arts Festival by Director & Choreographer Santanu Mallick and his team from Dhrii Arts and Welfare Foundation.
On 30th December 2022, at 7:00 pm
At Stein Auditorium, India Habitat Centre, Lodi Road, New Delhi
A very special work that attempts to explore, among other things, the concept of religion and its impact on the human soul, with the central character being Lord Dionysus, the ancient Greek god of ecstasy.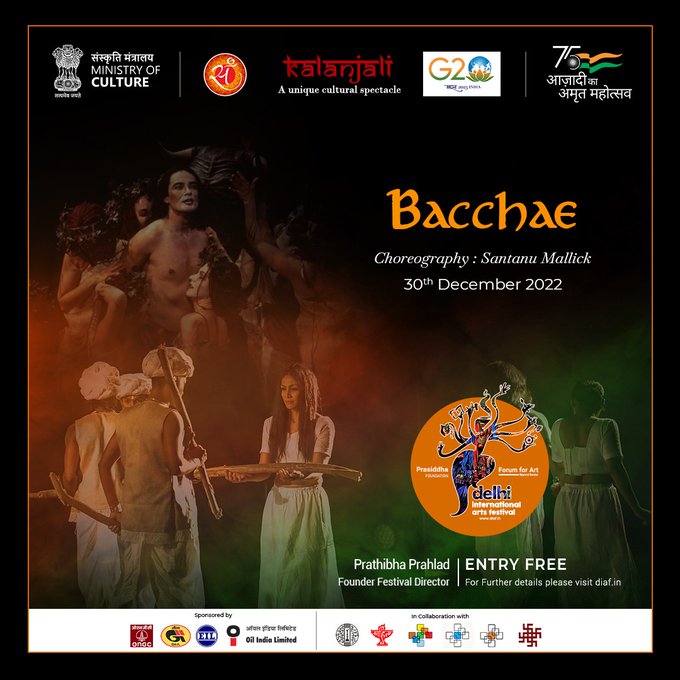 Dionysus has many similarities with Lord Shiva and according to Megasthenes and other post-Alexandrian historians, he is believed to have come to Bactria and India during mythical times, thus connecting the two countries.
The Bacchae is considered to be not only one of Euripides's greatest tragedies, but also one of the greatest ever written, modern or ancient. The Bacchae is distinctive in that the chorus is integrated into the plot and the god is not a distant presence, but a character in the play, indeed, the protagonist.
This performance attempts to adapt the play to an Indian context and for that reason it acquires a special value.
Delhi International Arts Festival is a multicultural, multi-venue event which attracts performers from all across the globe. Learn more about the festival and the events organized HERE