---
India's State Minister of Agriculture and Farmers' Welfare, Shree Gajendra Singh Shekhawat held talks with the Greek Minister of Agricultural Development and Food Mr. Evangelos Apostolos and senior officials of his Ministry on the first day of his three-day official visit to Greece on April 18, 2018. After the meeting, the two men made joint press statements stressing the need for further tightening of Greek-Indian agricultural co-operation. (Read the statements in Greek HERE).
Mr. Shekhawat also attended the meeting of the Standing Committee on Production and Trade of the Hellenic Parliament, which met  at 12.00 am in  the Hall  "President Athanasios K. Tsaldaris" on the agenda's topic: "Information by the Minister of Agricultural Development and Food, Mr. Evangelos Apostolou, according to article 36§5 of the Code of Civil Procedure, on the cooperation of Greece and India in the agricultural sector." The Indian State Minister, accompanied by Mr. Evangelos Apostolou and the Deputy Foreign Minister, Mr. George Katrougalos, also had a meeting with the House Speaker, Mr. Nikos Voutsis. (Read the statements in Greek 
HERE
).
The next day, the Indian State Minister of Agriculture, accompanied by Mr. Apostolou and Mr. Katrougalos, visited agricultural and food production units in Corinth and Messinia.
Interview with the AMP
Indian Deputy Minister of Agriculture Shri Gajendra Singh Shekhawat gave a press conference to Dimitris Mondis for the Athenian-Macedonian News Agency, which you can read HERE (in Greek).
---
India is a major agricultural producer in the world and one of the biggest exporters of agricultural products with a total export value of US $ 13.42 billion in the 2016-17 fiscal. During the last decades, the use of modern technology & equipment in the field of agriculture has made India, the world's largest producer of rice as well as milk, the second largest producer of wheat & sugar and a major producer of fruits and vegetables.
The sector has a huge potential of further growth of Greek-Indian co-operation, which seems to have been realized by both sides.
Photos
---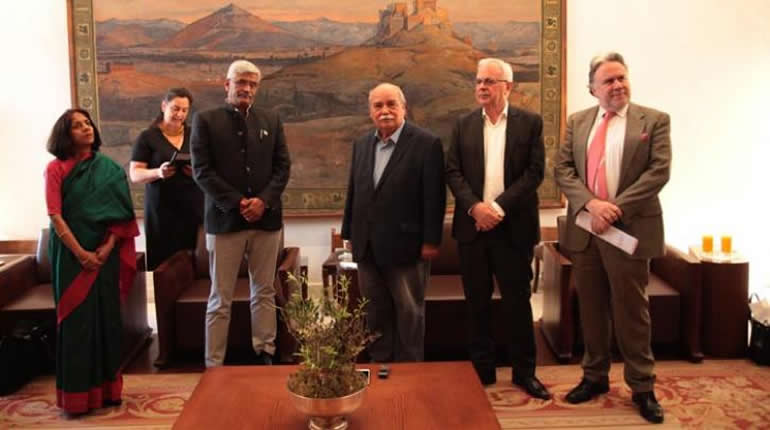 ---
---
---
"Greece and India preserve ancient civilizations. To further strengthen them, I am departing for Greece." Gajendra Singh Shekhawat
---
The Ambassador of India to Greece Ms. Shamma Jain during her previous meeting with the Minister of Agriculture Mr. Evangelos Apostolou on 12 March 2018.