ELINEPA's Desk Calendar 2019
The best new-year gift for the friends of India
The Hellenic-Indian Society for Culture & Development has released its new desk calendar to welcome the new year 2019. The calendar belongs to the series "Travels in Beauty and Gnosis" and includes landscapes and moments immortalized by the photographic lens of ELINEPA's members during their cultural tour to Varanasi, Rishikesh and Himalaya last August.
12 pictures corresponding to twelve months of the year are those awarded following the online photo-contest organized by ELINEPA after the successful completion of the tour in India and return to Greece. The calendar also contains the major holidays and festivals in Greece and India for each month separately.
Those willing to obtain this unique Calendar are requested to fill in the order form below and send it online at the earliest as a limited number of copies are available.
---
Desk Calendar 2019
Travel to Beauty and Gnosis: "Varanasi, Rishikesh and Himalaya"
Price: 4 € + postage
Special offer: 3 copies – 10 € + postage
---
---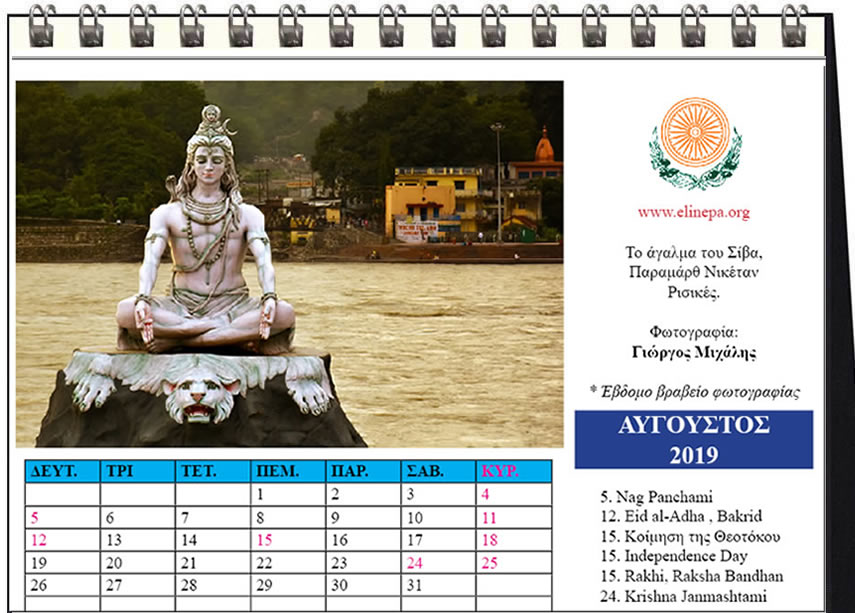 Publisher 
Hellenic-Indian Society for Culture and Development
REGISTERED OFFICE: 15 Nikolaou Florou Str., Athens. 11524, Greece 
CENTRAL OFFICE : 64 Zoodochou Piges Str., Athens 10681.
Tel. +30-211-6081463, Tel.& Fax: +30-210-3846757 
www.elinepa.org    e-mail :  indohellenic@gmail.com