A Self Portrait of the University of Athens in Hindi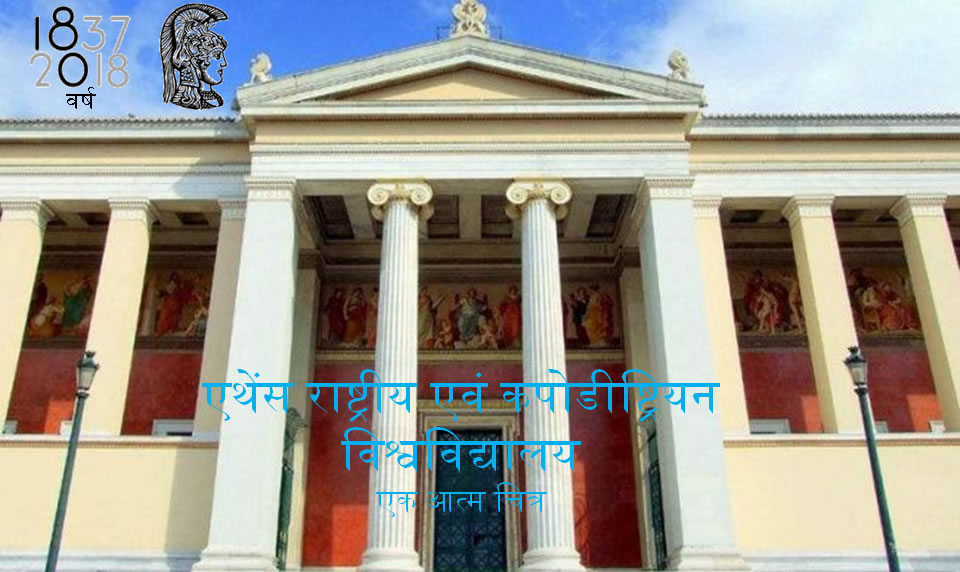 एथेंस राष्ट्रीय एवं कपोडीष्ट्रियन विश्वविद्यालय – एक आत्म चित्र
---
A Self Portrait of the University of Athens has been translated into Hindi and is now available on the website of the National and Kapodistrian University of Athens (NKUA), so that speakers of the national language of India can be informed in their own language about the history and the studies offered today by the University. Read the portrait of the NKUA in Hindi HERE.
The very useful publication was made at the initiative of the Rector of the University of Athens, Prof. Thanos Dimopoulos, for the reformation of the Institution's website and  its worldwide view through the major languages of the world. The portrait of the University has been translated, in addition to Hindi, into 11 other languages, namely English, French, German, Spanish, Italian, Norwegian, Turkish, Russian, Arabic, Japanese and Chinese.
The translation of the Self Portrait of the University of Athens into Hindi was done by Dr Dimitrios Vassiliadis (Professor of Hindi and Sanskrit at the University of Athens), Dr Rekha K. Rana (Banaras Hindu University) and Shree Subhashis Cakravarty (St. John's School, Varanasi) with the support of the Athens Center for Indian and Indo-Hellenic Studies and the Centre for the Study of Indian Languages and Society (INLANSO) in Varanasi, India.
---
The Table of Contents of the Portrait in Hindi