Rendez-vous with Indian Prints at the Municipal Art Gallery of Piraeus
Photo: The President of ELINEPA Dr Dimitrios Vassiliadis with the President of the Greek Characters Association Mrs. Florence Christakis, and the Characters Ioannis Monogyios, Alexandra Tsitsina and Nikos Stavrakantonakis (in the background) during the inauguration of the exhibition.
---
A large crowd of people attended the inauguration of the exhibition of engravings by the group of modern Indian artists "Multiple Encounters " last Thursday, October 4, 2018, at the Municipal Art Gallery of Pireaus (Philonos 29, Piraeus Metro Station, tel. 2104101402-05). The exhibition featured works by Laxma Goud, Vijay Bagodi, Kavita Shah, Ananda Moy Banerjee, Kavita Nayar, Dattatreya Apte, Pritam Deauskar, and Sushanta Guha. Curator of the Indian exhibition was Ioannis Monogyios
The exhibition will remain open to the public from 1 to 24 October 2018.
Opening hours Tuesday – Saturday 10: 00-14: 00 and 18: 00-21: 00, Sunday – Monday 10:00 – 14:00
---
The engravings exhibition of the Indian artists is hosted in the framework of the 4th edition of the Athens Print Fest entitled 'Nostos'. It is organized by the Greek Printmaker's Association (ΕΕΧ) and consists of a series of artistic and educational events that will take place in different locations at the same time in Athens and will be centered around printmaking.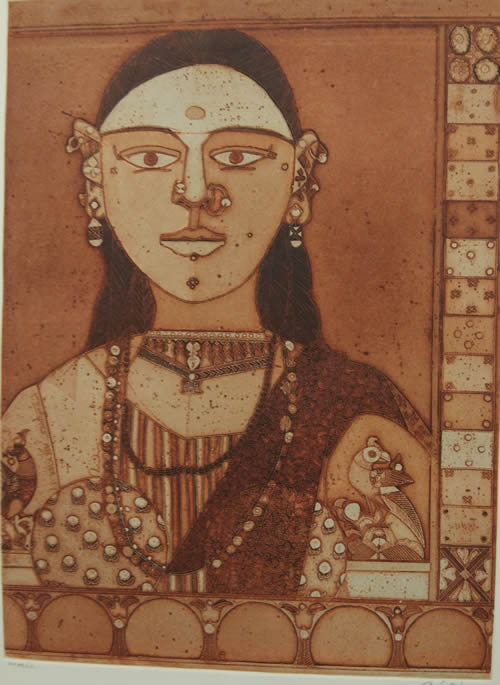 ---
Exhibition Rendez-vous with Indian Prints
All the rivers flow in various routes and directions aiming for the great ocean . The diverse cultures of India also look towards such unified creative impulses. Unity in diversity is synonymous with the Indian culture. It is reflected in this exhibition of prints from India .The artists represented in this show hail from various parts of India, brought up in conditions reflecting different cultures and experiences ,speaking different dialects, yet all are unified in certain faith and practices.
The works in this exhibition showcase the ethnic and rural background of Andhra Pradesh in works with fine linear and colourful intaglio prints. The iconography of speaks about seals and coins of historical past of India. The social impact on the creative mind is visible through the rendering of human forms in tonal executions .The common place cyanotypes take a different mode and creates a theatrical appearance in prints. The maze of lines using to create human forms is unified with strong colourful silk screen lines in works .The subtle surrounding which catches the fancy of the artist and is reflected in colourful and lyrical interpretations of flora and fauna takes the centre stage in etchings .The experiment with colours and forms for giving new dimensions to the creative expression through various layers and tonal variations is what presents in his serigraphs . In work, the common place signs become an icon in his etchings in colour. The city and the landscape dominates platographs .The dark tonal figures rendered in black and white lithographs reflect the urban struggle of human beings looking for their identities in prints .
---

See the calendar of all the events of the festival  HERE