International Conference on "Demetrios Galanos and His Legacy: Indo-Greek scholarship 1790-2018"
---
---
Indira Gandhi National Center for the Arts (IGNCA), under the Bharat Vidya Prayojana, a long-term academic program of the IGNCA, organized an International Conference titled "Demetrios Galanos and His Legacy: Indo-Greek scholarship 1790-2018" that was held in two phases, one – in New Delhi and the other – in Varanasi, in  February, 2018.
The Embassy of Greece in New Delhi, the India International Centre, the Bharat Adhyayan Kendra of Banaras Hindu University, Varanasi, and the Hellenic-Indian Friendship League, were active collaborators in this endeavour.
The conference was focused on academic and cultural exchanges between India and Greece made by scholars and artists both Indian and Greek, in modern times since Demetrios Galanos. Greek musicologists and musicians performing traditional Greek music, influenced by Indian melodies, have also been invited to participate.
Acting V.C. of BHU Prof. Neeraj Tripathi, Prof. Vagish Shastri, Prof Bharat Gupt, and Prof. K.D. Tripathi at the opening of the Galanos Conference at Banaras Hindu University, Varanasi
---
Participants from Greece were the President of ELINEPA and Prof. of Indian Languages at the University of Athens Dr Dimitrios Vassiliadis (Sanskrit in Greece), writer Denis Dilopoulos (Introduction to Demetrios Galanos), Professor of Anthropology at the University of Athens Pavlos Kavouras (Yoga philosophy in Greece), and teacher of Bharat Natyam and founder of the Santom cultural center Leda Santala (Greek-Indian dance creation: Sacred dance in ancient Greece and India), as well as four young and talented musicians, Avgerini Gatsi (accordion, singing), Nikos Paroulakis (ney), James Wylie (politici lyra and saxophone) and Thymios Agazakas (uti), who played traditional Greek music. The conference was attended by Dr Sachchidananda Joshi, Memer Secretary of IGNCA, and many professors and scholars from India and Europe, who contributed to the development of Greek-Indian studies, such as Bharat Gupt, U.P. Arora, Vagish Shastri. K.D. Tripathi, Koenraad Elst, Rana P.B. Singh, Andreas Katonis and others, as well as distinguished artists such as theater director Ravi Sharma, musician Dr Kumud Diwan and others.
Prof. U.P. Arora and Prof. Bharat Gupt, two pioneering scholars in the development of Greek-Indian studies in India
---
The Conferences, the concerts and the photo exhibition dedicated to Demetrios Galanos were held in two places as per the following program:
New Delhi: IGNCA Auditorium, no. 1, C. V. Mess, Janpath.
With honorary guest the Ambassador of Greece to India Mr. Panos Kalogeropoulos
Dates: 3rd and 4th of February, 2018, 10.00 am – 5.30 pm
Download the Program in New Delhi HERE
On the occasion of the conference, the Embassy of Greece in New Delhi hosted a special reception attended by Greek and Indian scholats and artists as well as Ambassadors of friendly countries.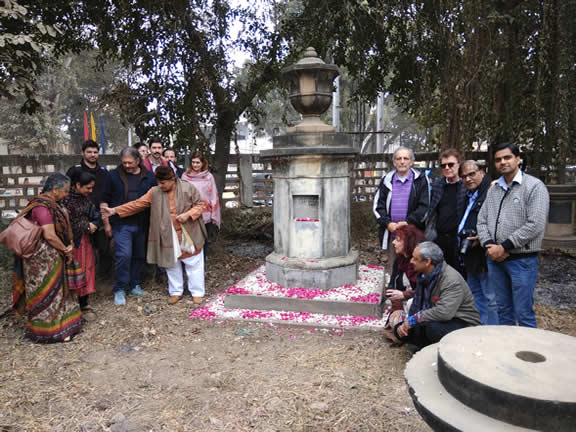 Visit to the tomb of Demetrios Galanos in Varanasi by Greek and Indian scholars and artists who participated in the conference on Demetrios Galanos and his Legacy almost two centuries after his death
---
Varanasi: Banaras Hindu University
With honorary guest the internationally acclaimed Sanskritologist Prof. Vagish Shastri
Dates: 8th to 10th of February, 2018, 10.00 am – 5.30 pm
Download the Program in Varanasi HERE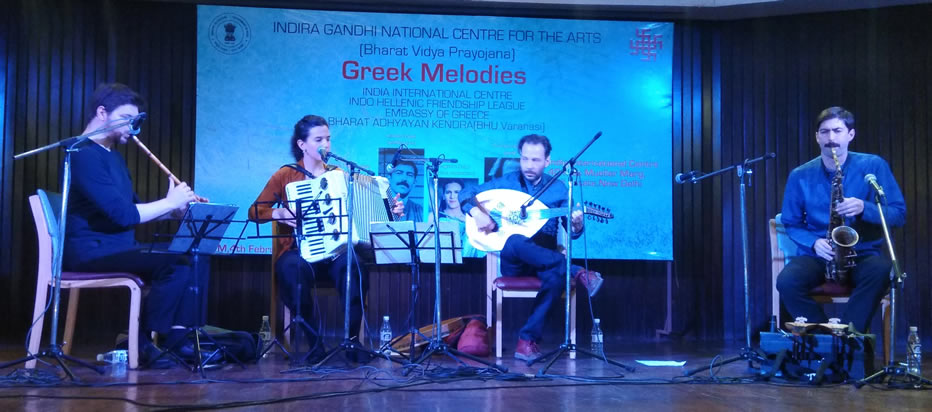 Concert of Greek traditional music at India International Center, New Delhi
---
The Conference and the concerts attracted a big audience, former Ambassadors of India to Greece, scholars and a few distinguished Indian musicians, and they followed with very positive comments in the Indian press and the sanskrit news "Vaarta" in Durdarshan national television network. ELINEPA has also published on its website the following articles in Greek and English .
---
Demetrios Galanos (1760–1833) has a special place among the European Indologists of the nineteenth century. He was the only one who stayed in India for 47 years, and except for the first seven years when he lived in Calcutta, for 40 years he lived in the city of Varanasi, mastering Sanskrit, Hindi and Persian, from local scholars, most of all from Munshi Shital Singh. He translated into Greek several Sanskrit texts including the Bhagavad Gita in 1802, and compiled a Sanskrit-English-Greek lexicon. He died on 3rd May, 1833 and was buried in the Christian cemetery of Varanasi. Most of his books were published in Athens posthumously leaving an indelible mark on the international level.